We could write a novel about what CrossFit is at Real Fitness Sarasota because we LOVE this stuff. But to get to the point, it's EFFECTIVE and FUN! It is effective because we plan, demonstrate, and help each individual complete the daily WOD (workout of the day). The WOD's change daily and are designed so that members can be in and out in an hour. Our workouts are created to accomplish more in 10-25 minutes than most people do in 2 hours in a typical gym setting.
FUN is not the common description of most exercise routines, however with the combination of friendly competition and support from your peers, FUN happens daily.  When you come in and complete the daily workout with a group, you're all in it together and that makes for an enjoyable atmosphere, not to mention the feeling of accomplishment when you reach those goals and learn new skills!
Below is a video and more information from CrossFit.com.  We also encourage you to check out our Frequently Asked Questions for more information about the workouts and what to expect.  But please keep in mind that the BEST way to understand CrossFit and Real Fitness Sarasota is to come in and give it a try!  Don't think that CrossFit is not for you because by definition, it's for anyone willing to put in the work to get in shape!!  It's comprised of a welcoming community of people and we have a great group of supportive trainers ready to get you started towards an ELITE level of fitness!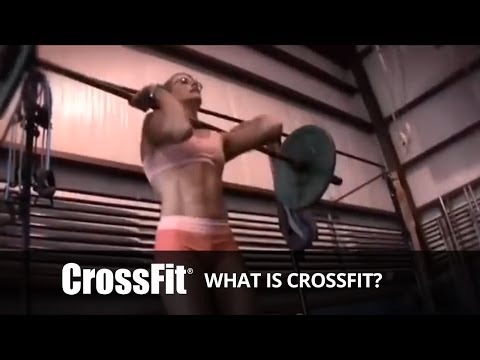 CrossFit is the principal strength and conditioning program for many police academies and tactical operations teams, military special operations units, champion martial artists, and hundreds of other elite and professional athletes worldwide.
Our program delivers a fitness that is, by design, broad, general, and inclusive. Our specialty is not specializing. Combat, survival, many sports, and life reward this kind of fitness and, on average, punish the specialist.
The CrossFit program is designed for universal scalability making it the perfect application for any committed individual regardless of experience. We've used our same routines for elderly individuals with heart disease and cage fighters one month out from televised bouts. We scale load and intensity; we don't change programs.
The needs of Olympic athletes and our grandparents differ by degree not kind. Our terrorist hunters, skiers, mountain bike riders and housewives have found their best fitness from the same regimen.
Thousands of athletes worldwide have followed our workouts posted daily on this site and distinguished themselves in combat, the streets, the ring, stadiums, gyms and homes.
Courtesy of CrossFit.com